mwahah
die vorband für kill hannah (und diverse
andere geniale bands, aber speziell für mich eben
für KH)!







My Passion are like the hyperactive sons of
Iggy Pop, bundles of energy for whom Ritalin
holds no fear, who spend their days in a madhouse
playing Nintendo, while their livewire frontman
stands astride the rooftop holding a huge TV aerial
aloft in the biggest thunderstorm that the world has
ever seen, screaming "please hit me again, you
great big electro beast".



LAURENCE RÉNE (lead vox/guitar abuse – aged 22)



A kung fu kicking wild eyed frontman jerking and
jumping around as if controlled by some invisible
giant puppetmaster up in the clouds, high on PCP.
It the stage is too small, he will just fly into the crowd
with a ninja leap, tethered to the stage by an umbilical
mic lead.





JONATHAN GASKIN (drums/hooligan vocals – aged 20)



A drummer who can make even a bontempi plastic
toy kit sound like it is heralding the four horsemen of
the apocalypse, but who inexplicably has the vocal
cords of the cutest cherub in heaven. Can play every
instrument known to man or beast, including some not
yet invented.



JOHN BE (guitar – aged 23)



A guitarist so into his craft that he sleeps with his
instruments and sends them valentines cards.
There's a fine line between dedication and obsession.
John Be crossed that line a loooooong time ago.
Would rather lose his limbs than indulge in guitar solos.



SIMON ROLANDS

(bass – aged 20)



The housewives choice. Behind the boyish looks
lurks a bass player with a sound way heavier than
Godzilla's big brother. Once arrested for setting off
every car alarm. within the Congestion Charge
Zone during a soundcheck with just one note.






All About My Passion

There must be something in the water up in
leafy Hertfordshire. Following hot on the heels of
Enter Shikari come new sensations MY PASSION,
a five piece who play what has been described as
'Artrock Electro Shock', 'Emo-Electrogoth' and 'Disco
Metal Art Rock' to name but three vain attempts at pigeonholing.



My Passion formed in November 2005 with an online
cyber-explosion at myspace.com/mypassionmusic.
Twelve months, 41,000 fans, 180,000 plays and fan
tribute pages in Japan, France, Spain, Italy, Germany,
Venezuela and Chile later, their time has come.
This is not just another "Myspace band".



The first half of 2006 was spent writing killer tunes
and playing on the London club scene, finally giving
the A+R scouts something to talk about.



"So many albums have two or three great tracks and
a load of filler. We wanted a debut album with ten
number potential one singles on it. We ended up
with eleven".



In the autumn, My Passion decided that it was time
to flex their road muscles and take their show on the
road. They embarked on The Fabulous Blood Disco
Tour, playing to fans in Paris and Barcelona as well
as a run of 30 UK dates, including shows with Neil's Children, Little Man Tate and Men, Women And Children,
as well as a show-stopping set at In The City in
Manchester.



"We saw a rich man who works for a major label
order £8 cocktail after £8 cocktail then run away
without paying his bar bill. We met people who
introduced themselves to us twice without realising it.
We watched people whose job is supposedly to unearth
new talent spend all night in fancy bars, not remotely
interested in seeing a single band. All this negative
energy and bullshit just built up over the weekend, and
we faced it head on. It was great. They just stood
there open mouthed. We blew them away".



Despite overtures from several of the cooler labels
out there since then, My Passion have decided to
remain in control of their own destiny, and have
formed 'Style Suicide Records', with their debut
nationally distributed release being the anthemic
'Hot in the Dolls House', mastered by John Davis
(The Fratellis, Mystery Jets, The Zutons, Razorlight),
slated for an early April release.



"It's nice when people offer to buy you lunch and pay
for your drinks, but to us, it's not about that.
My Passion want to take over the world on our own terms.
This is us. We put our heart and soul into My Passion,
and it just seems wrong to sell that to the highest bidder.
We want to see this through to its logical conclusion.
World domination".



DIY is something that seems to come naturally to
My Passion. They launched their own live music and
club night, "Style Suicide Club", in October, gaining
the accolade of the NME Club Of The Week after their
debut outing!



In March, they become the first UK act ever to
undertake a multi date tour of Venezuela, following
a phenomenal groundswell of demand due to major
TV airplay of their videos.



"Modern technology has really levelled the playing
field. We can now sell our songs to kids in Tokyo as
easily as Tunbridge Wells thanks to our deal with
iTunes – you don't need to sign to a major label
nowadays in order to get your music out there.
We have been offered a tour 6000 miles away
because one kid In Venezuela saw our videos on
youtube and asked his favourite TV station to play
them. They tracked us down, and things just went
mental – we can't wait to get out there. We'd love to be
the first unsigned band to do a complete world tour,
and we know that right now, anything is possible".



The year ended on a high with My Passion in at
number 5 on the Independent On Sunday's 'cool list'
of acts to see in 2007. On the live front, My Passion
will be sharing stages with The Kooks, Kid Harpoon
and Ratt:att:ag this Spring, with more high profile
shows in the pipeline.



"The energy that goes into a My Passion performance
has to be seen to be believed. The crowd get sucked
into the whirlwind. Those who resist get tired
simply watching from the back of the room."

Anyone for Ritalin?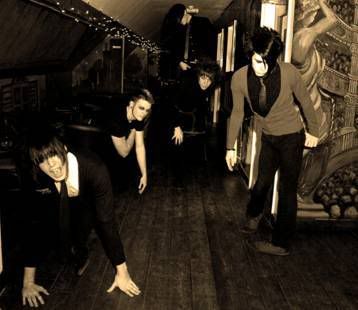 MY PASSION - What the press have said so far:


THE INDEPENDENT: "Every time I see My Passion,
they get acer. (Is 'acer' a word? It is now.) It's only
gonna take one break and they could be properly
massive."




WORKING TITLE WEBZINE: "With far-out hair that
makes old ladies cross the street, growling guitars,
synths reminiscent of your Super Nintendo on a bad
day and the entire Boots supply of eyeliner, My Passion
are five guys armed from the balls up with guitar, bass,
synth and drum, playing trashy riffs that make you want
to get all of you kit off and actually dance. It sounds like
you're circular sawing your GameBoy, A blatant aural-
orgasm."



UK MUSIC SEARCH: "Sounding like a punch up
between the Lostprophets, The Automatic and
Duran Duran, My Passion create wiry pop music
with its roots in the eighties but its sights set firmly
on the future. This is a band you'll be hearing
plenty more about pretty soon; songs that contain
all the infectious hooks, snappy guitar lines and ice
cool synth stabs you could ever wish for. My Passion
make out like Franz Ferdinand on speed and locked
in a room full of synthesisers and John Hughes films."



ORGAN MAG: "Desire drenched infectiously stylish
clever eye-liner indie new wave new romantic Roxy
bouncy lip-glossed spiky-sweet pop boys after-dark
manic street preachers who know they can dance-
pure pop, switch this, lavender kiss - I think you get
the picture, they do it with style."



PLAYLOUDER: "A band whose black clothes and blacker
and bigger hair makes me wonder if they're called
The Mild Disquiet. Ah, it's My Passion. However,
sartorial style is all this youthful lot have in common
with the hyped Southend chaps. Instead, this heavier
take on emo's histrionics ought to ensure that these
pretty boys could lay a Suicidegirl with ease - in fact,
they're so accomplished in their angst it's surprising
they haven't already been snapped up by a major label."




UK FUSION: "Pretty soon they'll be your passion
as well as mine."



EAGER LISTENER: "My Passion are what The Horrors
wish they were. The NME cover awaits. The world is theirs."



THE DOSE: "The best teenage nosferatu anthems
we've heard... give this to anyone who has a touch
of rebelling sensitivity and he'll tear the whole building
down. Crying"


RED RED RED!: "My Passion are your next obsession... if
you are a young girl swooning, an 80's throwback
obsessed with darkness, a new age indie disco kid
seeking a jerky dancefloor thrill or just someone
who wants to be wanted... this band is yours."


UNEARTHED TREASURES: "New romantic style hair
and make up splash their once angelic faces to
reveal a sinister alter-ego. Big riffs fly out of the
guitars like bullets from an out of control machine
gun, synthesisers buzz around like a hornet on
ecstasy while Laurence Réne's voice soothes and
then spits acidic verses from the frontline."


AlLL SYNTH POP: "It's raw, energetic, and honest.
It's all here, in your face, take it or leave it. It's
meant to be rough and loud and should strike an
immediate response on the dancefloor."




VANITY PROJECT: "Heavy eye shadow, shirts and
ties - high style, but not without substance, chiming
with synth pop fettle, chugging with played-down
metal riffs and big brash, confident, arrogant choruses."


DRIPFED: "Like a strange war between The Rasmus
and Erasure. But Good."


SOUNDWAVES: "Like the Bravery, but with more
grit and better hair!"




Visit My Passions Myspace @ www.myspace.com/mypassionmusic



For more information on My Passion please visit their official website at
http://www.mypassion.co.uk